The vision for the new Albukhary Foundation Gallery of the Islamic world has been to include material culture in its broadest sense, from Nigeria to Indonesia and from the 7th century to the present day. To achieve this, the Museum's curators and conservators have worked together to showcase 1607 objects that have never been displayed before, from beautiful textiles and delicate works on paper to important archaeological finds.
This archaeological material includes finds from the 9th-century city of Samarra in Iraq. Among these objects are fragments of carved and painted stucco (a fine plaster) that once lined the walls of houses and palaces. To prepare for the new display, conservators pioneered the use of a plant algae known as agar agar to delicately clean the carved stucco and another non-invasive material, 'smoke sponge', for the painted stucco. The result was remarkable, revealing a range of vibrant colours – including a rich cobalt blue used to paint the feathers of the parrot.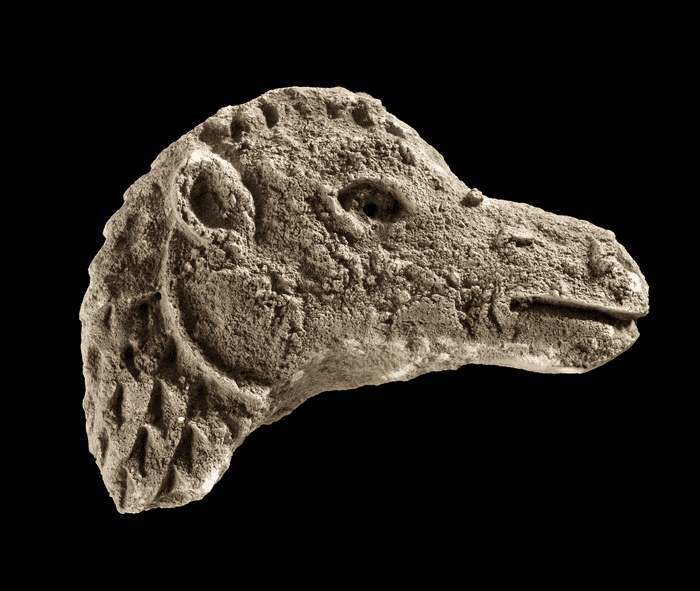 Plaster camel's head, Samarra, Iraq, 9th century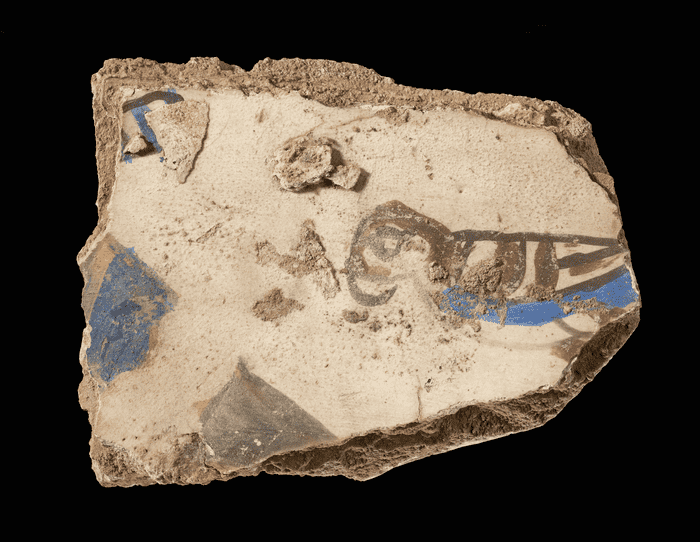 Painted wall fragment with parakeet, Samarra, Iraq, 9th century
While conservators are known for their high level of technical skills in conserving and preserving objects, their work within the Museum is much broader. Conservators and scientists work across the entire collection, and across all sites and all spaces. They therefore have a high level of skill and a particular understanding of the collection's needs, as well as valuable knowledge of the Museum building. It is a conservator's job to foresee what risks might affect objects while they are on display and how to avoid them. This needs to be balanced with sharing the collection with visitors and attempting to find the most sustainable solutions to minimise these risks. This is one of the most important aspects of conservation work and it starts as soon as new projects are planned.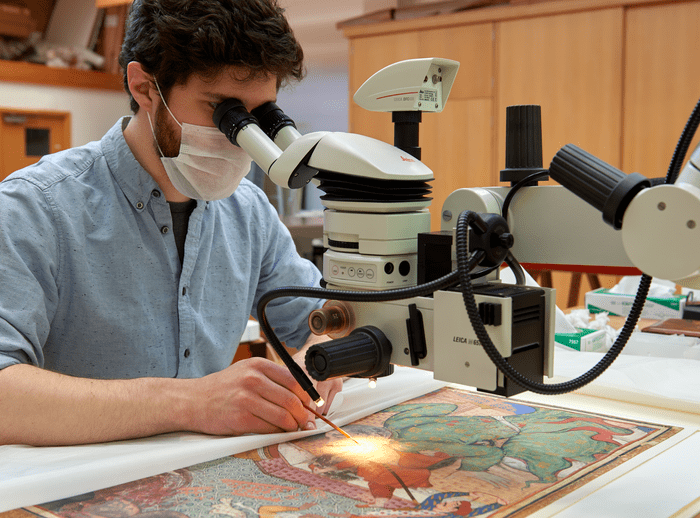 Matthias Sotiras, conservator of pictorial art, consolidating a Mughal painting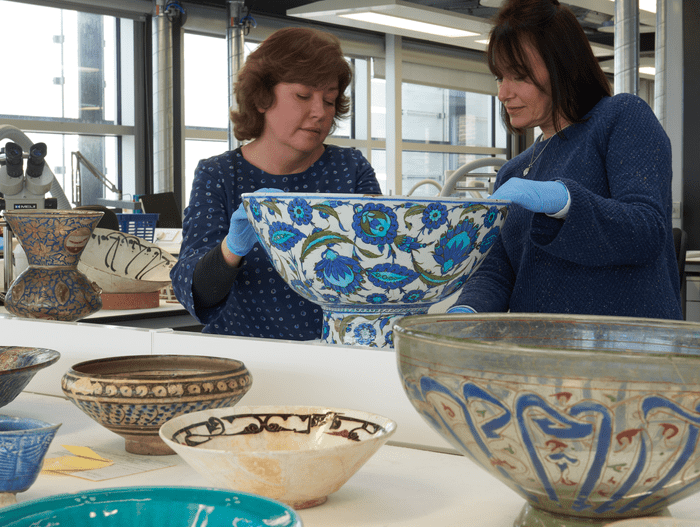 Glass and ceramics conservators Denise Ling (left) and Loretta Hogan (right) assessing an Iznik basin
The Albukhary Foundation Gallery contains magnificent examples of dress from different countries across the Islamic world, from Yemen to Central Asia. In order to bring these glorious textiles to life, they are displayed on mannequins. While mannequins might seem easy to come by, however, the Conservation team works closely with collections managers to make specialist display models in-house from materials that do not contain pollutants that could harm the textiles in the future.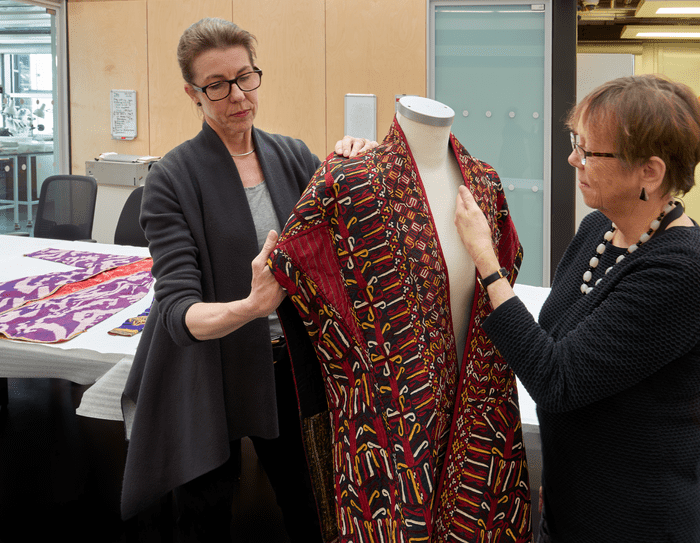 Textile collection managers Imogen Laign (left) and Helen Wolfe (right) working on Central Asian costume
In the Department of Scientific Research, each scientist has a specialist skill and knowledge of one or more of the many different materials found among the artefacts in the collection. The Museum's state-of-the-art laboratories are equipped to examine and analyse fragile objects as non-invasively as modern scientific techniques allow, without having to risk damage by moving them off-site. An area of the Museum's Islamic collections that has been a particular focus for scientific research and publication is metalwork, specifically domestic vessels and utensils, which includes bowls, mirrors and other objects made in the Arab and Iranian worlds between the 8th and 16th centuries (1613445396).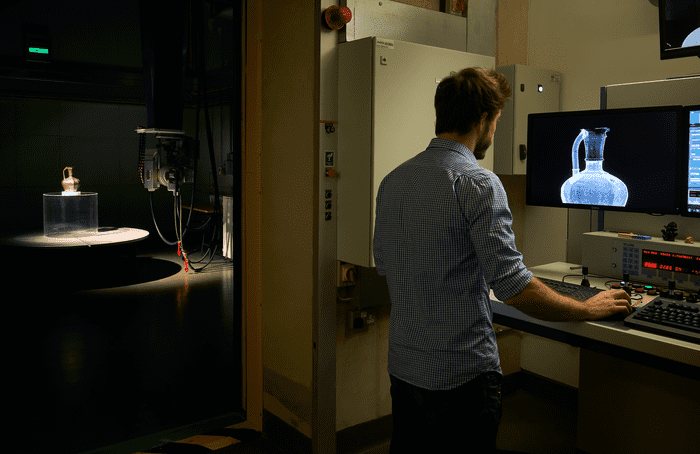 Daniel O'Flynn, X-ray imaging specialist, examining the Blacas Ewer in the British Museum's X-radiography suite